Online Project Timesheet Software
Stop wasting time trying to capture time. Our online timesheets streamline your time capture and improve efficency, allowing you to pay and bill faster, conform with compliance laws and results in improved project management.
Capture Any Type of Work
Timesheet Portal allows you to capture time in days, hours and arbitrary numerical quantities. Online timesheets can be configured to capture multiple rates of time, so you can differentiate between standard time, overtime, weekend work, etc for the same task.
Time capture can be further customised to track differing activities spent on project tasks, or employee grades / roles, having their own rates.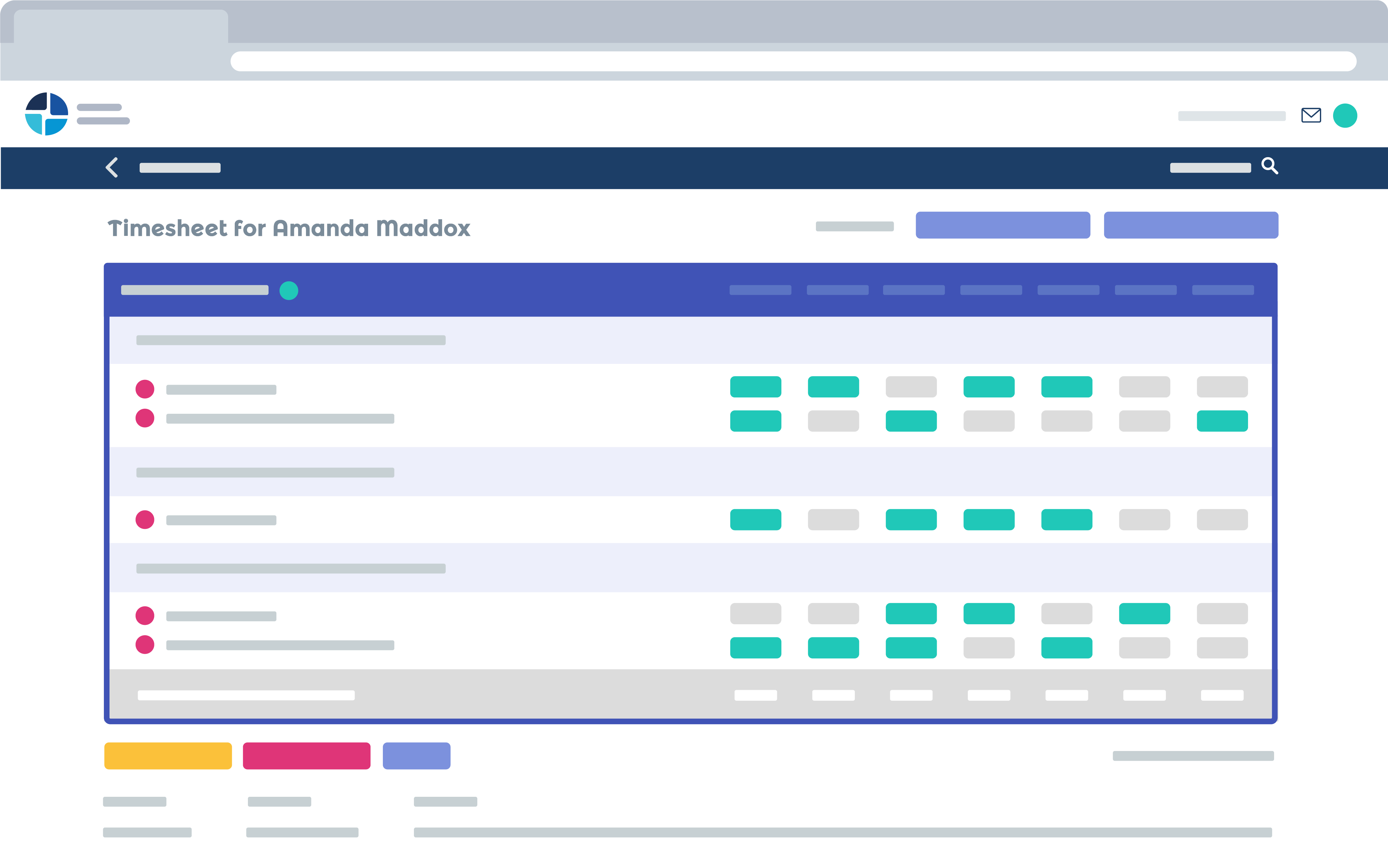 Advanced Rates Management
Set pay and charge rates, so you can report on total costs, charges and margins in real time, provided in project dashboards and downloadable reports.
Our in-depth rates configuration interface allows you to set rates on different levels, e.g. per client, per project, or per employee performing a specific task on a project. There are more than 10 different rate types that can be set, each with their own priority. Rates can be configured in days or hours, and you can even track non-time items, e.g. number of tracks laid on railway, or number of calls made in a teleresearch environment.
Automatic Overtime Calculation
Calculating employee overtime can be a cumbersome task. We'll take that pain away from you and minimise mistakes introduced from human error, and allow you to focus on payroll rather than number crunching.
Overtime can be calculated with weekly and daily thresholds, or time of day bands, and can go even deeper to calculate a minimum payment for a shift or take into account start times of work or add additional pay for public holidays.
Timesheet Rules
Timesheets are highly configurable, so you can define the structure of the timesheets, and available tasks for differing employees or teams. You can define rules to prevent entry of time exceeding thresholds (e.g. employee's working hours), or rules to ensure that employee's time always adds up to a specific amount each day or week.
You can also define available days for certain tasks, restrict time on holidays and prevent entering of time once a task budget has been depleted.
Approval Workflows
Approval can be single stage, or configured as multiple stage, for example having a project manager approve time first, followed by the line manager.
Approval can be performed against the whole timesheet, or broken up per project contained within a timesheet, or even at the task level. Audit trails of approvals are stored and easily included in client invoices.
Clock In and Out
Workers can clock in and clock out using our mobile app, and have their timesheets automatically populated and submitted.
GPS coordinates can also be tracked, allowing you to see the locations of all clock in and clock out events on a map and serve as a physical audit trail.
Free trial
See for yourself how you can save time and money. Enter your details below for a free 30 day no-obligation trial.

Timesheet Portal online software provided by Anfold Software Ltd, a registered company in the UK.